BDSc (WA), MSD(Indiana), DDSchc(WA), FRACDS
Professor Patrick Henry graduated with a Bachelors Degree in Dental Science with first class honours from the University of Western Australia in 1961. He was awarded the Hackett Studentship of UWA. He then went to the United States and successfully completed his MSD at the University of Indiana from 1962-63. From 1965-66, he was the Post Doctoral Research Fellow, University of Chicago.
Patrick was awarded his specialist prosthodontic degree from the University of Indiana in 1967 and with it began an illustrious career spanning the next five decades.
Based in Perth, Western Australia, he established the original Brånemark Center in collaboration with Prof P I Brånemark the founder of osseointegration which became a beacon for clinical excellence, research and education worldwide. He has received various distinguished lecturer awards from around the world; numerous honorary memberships, teaching appointments and research fellowships. He was Professor & Director of the Graduate Programme in Prosthodontics in WA; and Chairman of the Department of Dentistry, Princess Margaret Hospital for Children. He has served on the editorial board and review panels of numerous journals in the field of implant prosthodontics; Written over 100+ scientific journal publications, seven textbook publications, eleven hardcover proceedings and over 20 abstract publications;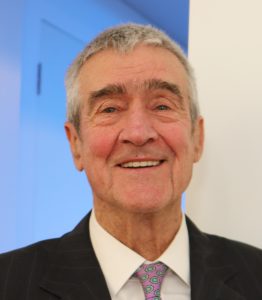 He has given over 1000 formal lectures and educational courses and received numerous awards and honours including honorary life memberships to the Royal Australasian College of Dental Surgeons, the Australian Prosthodontic Society, the Elmer S Best Award, the Pierre Fauchard Academy Roll of Honour; and Dental Alumni Society. He was awarded an honorary doctorate from University of Western Australia as well as being recognised as a Member of the Order of Australia in 2009.
His latest award in 2020 is the Brånemark Osseointegration Award for lifetime achievement the field of implant dentistry from the Academy of Osseointegration in the USA.
He continues his research here at The Brånemark Center and in his honour our own lecture theatre bears his name.