Core Dental Ceramics & PM Prosthetics
We work closely with Core Dental Ceramics, widely considered to be one of the finest dental laboratories in Australia. They provide an extensive range of services to our clinic including all ceramic options, computerised design, CAD CAM milling and printing and conventional prosthetics for all indications. They are located in The Brånemark Center building and will personally consult with all patients regarding their dental reconstruction. Usually this will involve multiple photos and occasional videos depending on the complexity. A sophisticated digital mock-up and shade matching program is employed to achieve the most lifelike and realistic result possible. Trial appointments are always scheduled prior to finalising the treatment to detail the ceramics and ensure that everyone is proud of the final outcome.
In addition to ceramists, we also work closely with Paul Micheli, a highly experienced acrylic prosthodontic technician. His wealth of knowledge allows us to personalise your treatment to the highest possible standard in house and Michael Standish Dental Laboratories Perth, who has been involved with the development of All-on-4® over the last two decades and more recently the Trefoil™ project.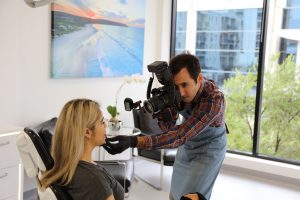 Working closely with highly skilled technicians on site and close by, means that you meet the person constructing your dental reconstruction giving you the ability to give your input and the ceramist the ability to inject your personality and character into their "art". This allows the Brånemark Center team to achieve a beautiful natural result rather than a generic outcome that looks false. We do not deal with off-shore laboratories and all materials we use have been stringently regulated by TGA to be safe.